2023-past-officers.pdfAbout Us
Our Current Board of Officers
President: Jeff Morgan
Army National Guard
(2013 to present)
Hi! I'm Jeff Morgan. I was born and raised in Wausau, Wisconsin and graduated from Wausau High School in 1972.
I retired after 30 years of service with the Wausau Department of Public Works. I currently work on a seasonal basis as grounds keeper at the Tribute Golf Course (formally known as the American Legion Golf Course).
I joined the Wisconsin National Guard in 1972 and retired from there in 1994 as a Sergeant First Class. I went to Boot Camp at Fort Dix, New Jersey from June until August 1972 and was trained as a Truck Driver, MOS 64C. Returning to Wausau I was part of the Wausau Unit Headquarters, Headquarters Company 1-632 Armor Battalion. I earned my rank and position as Truck Master and Ammunition Sergeant in the Battalion. On Operation Reforger I spent time in Belgium, Germany and the Azores. Once home, I reassigned to the Mosinee, Delta Company, 1-632 Armor Battalion and trained to be a Tanker. I received the Army Overseas Medal, Civil Defense Ribbon, the Army Achievement Medal, the National Defense Service Medal among several others. I retired out after 22 1/2 years.
I am proud to have been a part of bringing the "Wall" to Wausau, and to have been involved in all areas of MOH. I am especially honored to have been recently elected to the office of Man of Honor President.
I am happily married to my wife Cathie, an Associate Member of the Man of Honor Society, and we have 3 adult children, Josh, Sarah and Ben. Motorcyle riding, golf, camping, fishing and Green Bay Packers are some of the many things I (we) enjoy.
Vice President: John S. Fust
US Army
(2023 to present)
Hello! I was born and raised in Wausau, WI and attended Wausau West High School.
I am currently employed at Wausau Supply/Wadena Millwork as a Production Supervisor in the Moulding Department.
I joined the Army in May 1985 under the delayed entry program and left for basic training in September of the same year. I did my basic and AIT at Fort Knox, Kentucky. I trained as a 63D, Self-Propelled Field Artillery Systems Mechanic. After AIT, I was selected to go to recovery school. That gave a H8 Mos Identifier. After that I was sent to Germany where I spent the rest of my time in Kitzingen, attached Service Battery 2/39 Field Artillery as a M578 Driver. I left the Army in October 1988.
I joined the Man of Honor in 2004 and served as Secretary from 2008-2011. I am also known as the "barker" during our yearly raffle event. I have been encee for our raffles since the 2nd raffle we did.
I am married to my best friend, Lynda, and have two great kids, Carson and Rianna. I enjoy hunting, fishing, and follow the Green Bay Packers and Milwaukee Brewers.
Secretary: Brian Thompson
US Army
(2022 to present)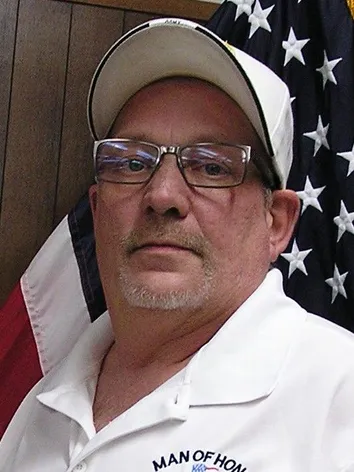 I was born and raised in Wausau, WI and graduated at Wausau West in 1985.
I am currently employed at Oldcastle Building Envelope for 21 years. I served in the US Army from 1985 - 1989. I split my time in the service between Karlsruhe, West Germany and Fort Rily, Kansas. I enlisted as a 448B, Welder.
I am married to my wife, Kelly, for going on 7 years.
Joined the Man of Honor Society to help the great service members in our area. I enjoy the Brewers, Badgers and Pittsburgh Steelers.
Treasurer: Ken Kohnhorst
US Navy
(2022 - present)
I was born and raised in Wausau, WI and attended Wausau West High School Class of 1971. I then enlisted in the US Navy and was on the USS Denver LPD-9 Amphibious Transport Dock. SK2/E5 Storekeeper, Ships Optar for 2 years and assisted in night flight operations with Cobra helicopters in North Vietnamese Waters. I received Vietnam Service Medal, Vietnam Campaign Medal, Navy Unit Commendation and the Combat Action Ribbon.
I retired from driving truck for several companies including, Bajet North American, G & R Transport, Wausau Metals, Foreway Express and USF Holland. I moved to Tomah, WI in 1996 when Foreway Express closed the doors to work for USF Holland. I retired in 2016 and moved back to Wausau.
I have been married to my wife Peg (associate member) for 36 years. We have 2 adult children, Josh and Jessica and 4 grandchildren. We love spending as much time with our family as their schedules allow. Our other passion is motorcycling in which we have taken many long-distance trips with. We are both members of Rib Mountain Riders Club in which we promote motorcycle racing. We just celebrated our 75th year this past summer.
I am extremely honored to be recently elected as the Treasurer for the Man of Honor. I find devoting my time to helping veterans is very fulfilling.
Sergeant at Arms: John Heck Jr.
Army Reserve
(2023 to present)
Hello! My name is John Heck Jr. (aka Johnny). I was born in Marshfield, Wisconsin and raised in the Town of Easton on my dad's dairy farm. I graduated in 2002 from D.C. Everest.
I joined the United States Army Reserves March 19, 2001. I did the split training option, completing basic training in Fort Sill, Oklahoma the summer before my senior year of high school. After graduation I completed AIT at Fort Leonard Wood, Missouri. My MOS was 62E, Heavy Construction Equipment Operator. After AIT I came back to Wausau to the 397th Engineer Battalion. February 14, 2003, I got alerted and then transferred to the 389th Engineer Battalion Combat Heavy out of Middleton, Iowa. In April 2003 I was deployed to Iraq for Operation Iraqi Freedom, as the first Heavy Equipment Battalion in the Country. We built Camp Victory from the ground up into a fully functioning base before our tour was complete. I came back to the 397th Engineering Battalion in Wausau. My service was complete on April 19, 2006.
I have been a member of Man of Honor since February 12, 2010. I am a proud dad to five young men, James, Taylor, Brady, Micah, and Noah. My wife Cortney (Associate Member) and I enjoy spending time with family and friends, traveling to see our boys, working with the animals on our hobby farm, being outdoors, and our time working with the Man of Honor Society.
Click here to see all past officers.
MEMBERSHIP
Open to all U.S. Military Veterans, active duty, or reserve. There are no dues in this society. Associate members will be allowed into the organization at the discretion and vote of the members.